Watch it by clicking on the image: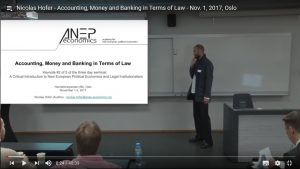 Nicolas clarifies the historically specific legal nature of assets & liabilities, using legal anthropology to distinguish reciprocity based mutual obligations of exchanging favours and gifts within a "Gemeinschaft" from money-denominated, state enforceable legal obligations within a civil society ("Bürgerliche Gesellschaft").  He then introduces a foundational concepts of double entry bookkeeping:  the balancing items net worth (equity) – this is what Luca Pacioli originally termed "il cavedale", i.e., capital  and probably the origin of the term – and net financial assets.   The concept of net financial assets (a balancing item which, for a nation as a whole, is usually called international investment position) forms the core concept of Stützel's mechanics of balances based ex ante theory of business cycles.  It is the core concept allowing for a coherent integration of the real and monetary spheres in macro models.
Nicolas then develops this up to sectoral accounting for a closed economy, clarifying that capitalism is a zero sum game on the level of net financial assets – but not on the level of net worth (profits&losses).   The next two videos – Presentations by Thomas Weiss and Prof. Johannes Schmidt – will present an introduction to Stützel's theory of business cycles.  Stay tuned, these will be published soon.
For a summary of contents of video and the complete seminar, click here.