Watch it by clicking on the image: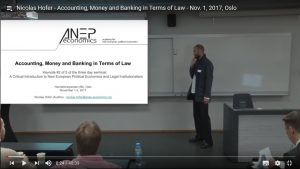 Nicolas clarifies the historically specific legal nature of assets & liabilities, and introduces the balancing items net financial assets and net worth (equity).  Net financial assets forms the core concept of Stützel's mechanics of balances based ex ante theory of business cycles.  It is the core concept allowing for a coherent integration of the real and monetary spheres in macro models. Nicolas then develops this up to sectoral accounting for a closed economy, clarifying that capitalism is a zero sum game on the level of net financial assets – but not on the level of net worth (profits&losses).   The next two videos – Presentations by Thomas Weiss and Prof. Johannes Schmidt – will present an introduction to Stützel's theory of business cycles.  Stay tuned, these will be published soon.
For a summary of contents of video and the complete seminar, click here.